In order to determinate if our opportunities fit with your carreer's expectations and to fulfill our recruitment needs, CVO-EUROPE sets up a purposeful hiring process which aims to  find, integrate and keep on developing the best talent. Our hiring process also ensures to show you every aspects of consultant's job, and the numerous assets of working in CVO-EUROPE.
As we are looking for Excellence and a perfect match with your potential and what you want, below are the 6 steps of CVO-EUROPE's hiring process to join its consultants teams.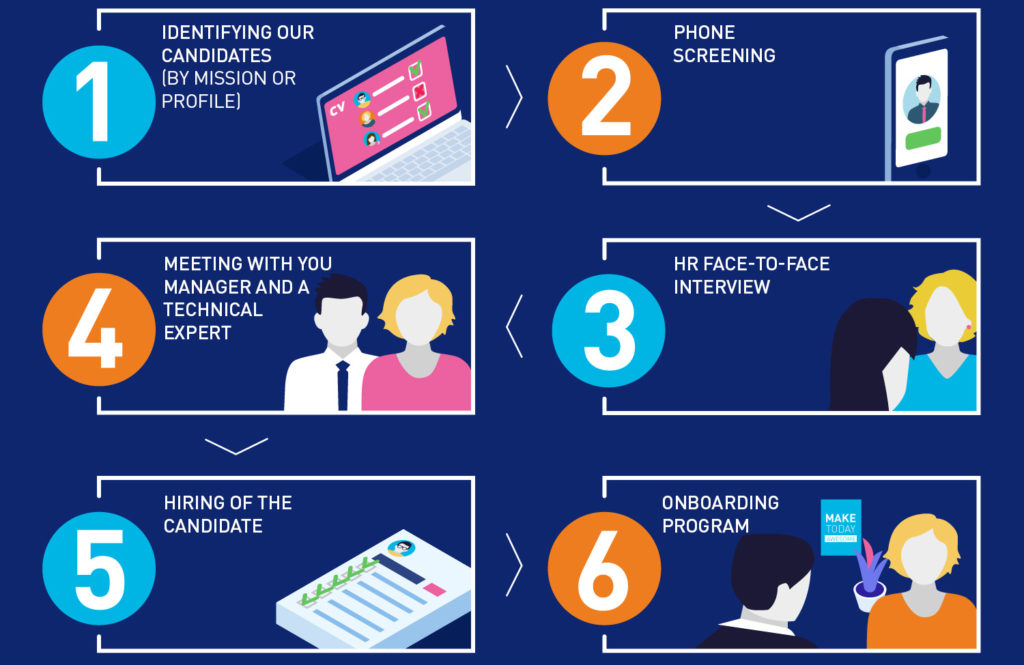 1. Identifying our candidates (by mission or profile)
Depending of our business activities and our upcoming recruitments, we post a job offer or we directly search for the adequate profiles (on jobboards or social medias). 
Moreover, besides our clients needs, we are constantly looking for new consultants in the qualification/validation, regulatory affairs and quality fields.
2. Phone screening
This first call serves to take stock of your interests, to introduce you to the job of consultant, and the CVO-EUROPE company.
Our recruiting managers contact you so as to know more about your professional desires, your career goals, and see if the projects in which we could involve you would meet your expectations. This first contact is also the opportunity for you to learn more about CVO-EUROPE : our projects, our culture, our values…
3. HR face-to-face interview
This is the first meeting with the recruiting team.
This interview aims to know more about you : what is your career pathway, your experiences and associated skills, so as to determine if the could fit in our present needs and what we could bring to you. This will be the perfect time for you to tell us more about your professional ambitions and your motivations, so as we could see if your skills and desires meet our job opportunities. You will also have a deeper glance of CVO-EUROPE's activities : a compliance expert in the Life Sciences industry, individual training plans, rich and various missions…
4. Meeting with you manager and a technical expert
Following the HR interview, you will meet your manager and a technical expert.
These interviews are planned to talk about the current job opportunity in details and to validate your technical skills. 
You may also have the opportunity to talk with one of our consultants so as to have a better and realistic vision of your future job, and of a CVO-EUROPE's consultant life.
5. Hiring of the candidate
We pay as much attention on your technical skills as your soft skills. In view of your different meetings, if we consider you both fit in our technical skills expectations and the renowned and well-appreciates qualities of our employees, we will make you an offering of employment. If you accept our offering, 2 steps are following : your onboarding program and the assignment of a mentor.
6. Onboarding program
A HR manager will be pleased to welcome you inside your local office, and you will join the onboarding program at our head office in Lyon.
On 3 days, the onboarding program aims to explain you how our company is working, the working tools you will have and what are our expectations towards our employees.
We will give you everything you will need to help you to get more confident and  familiar with your new working environment. 
Finally, the assignment of a mentor (a 2 years experienced CVO-EUROPE's consultant) will help you to integrate our company in all serenity. 
So, what are you waiting for? Join our teams! CVO-EUROPE, it is 1 job, 1000 experiences!
Have a look yo our current job offers, what will be your career working with CVO-EUROPE, or make a spontaneous application.