Becoming a consultant? Why not?! At CVO-Europe, you will have the opportunity to discover every aspect of your job, working on various and  rewarding missions for our clients. Thanks to a strong corporate culture and to mentoring, CVO-Europe will help you to success in each of your missions and will give you a continuous training so as you to become a real expert. What are the most appreciated soft skills to join CVO-Europe as a consultant? Need a clue : they are all significative skills for working in 2020 according to the World Economic Forum, and are already searched by recruiters. Boost your career with CVO-EUROPE!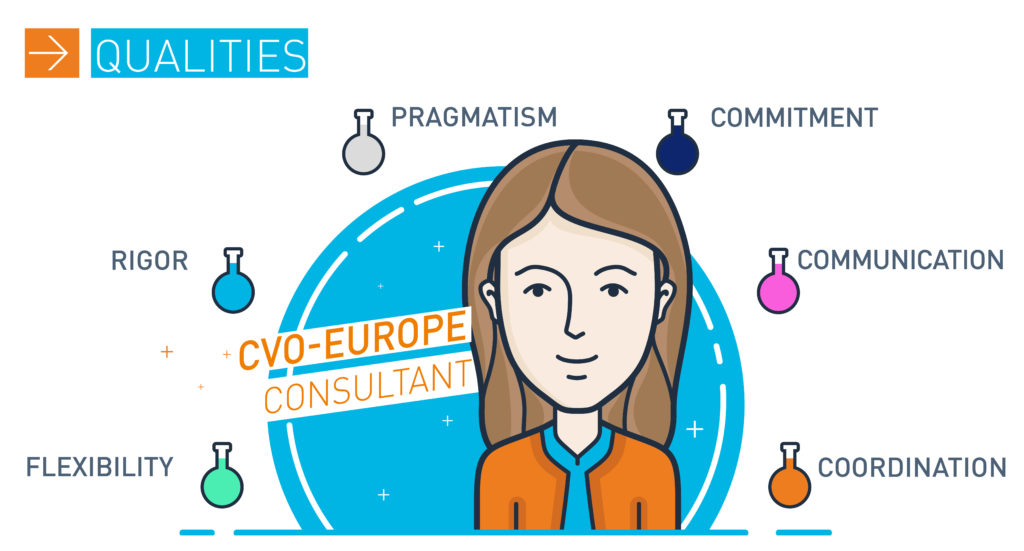 FLEXIBILITY AND ADAPTABILITY: As a CVO-Europe consultant, you will have the opportunity to work with a lot of highly renowned clients into the life sciences sector.  Every mission is as various as rewarding, according to our motto: 1 job, a thousand of experiences! Pragmatism : Being a CVO-Europe consultant is also learning to drive every given mission to success so as to provide a service in line with our clients expectations, adopting a pragmatic decision-making attitude, efficiency, attention and rigor. Rigor : Thanks to the help of your mentor, and the continuous development of your skills, you will be recognized as an expert and will be responsible for the compliance with the inherent regulations and quality of life sciences sector.
Commitment and reliability : CVO-Europe's expertise is strongly recognized by our clients thanks to the defined goals achievement and the commitment of every consultant to success in it. The personal investment you will bring will be rewarding for your whole career! Coordination with others: Sharing your informations, discussing with various skilled profiles in various structures are the best way to enrich yourself through other people and to transmit your knowledge for a collective success! Good communication skills: By joining various working environments and working teams along their career with CVO-Europe's clients, the consultants get a lot of benefits from all these encounters and strenghten their good communication skills.
To join our teams, see our job offers
---