Developing your skills – or acquiring new ones – requires a real personal investment from learners:
listening, attention, training, exercise, etc. As each person has a different way and method of learning, certain training formats can encourage or, on the contrary, inhibit, the assimilation of new concepts, depending on the individual.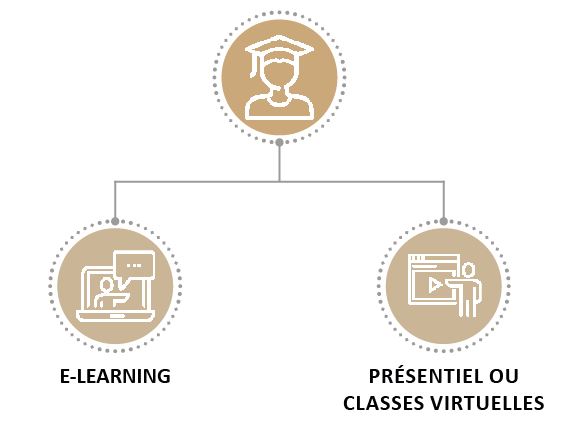 Blended Learning allows you to deliver personalised training courses to suit the needs and expectations of your employees.
Learning is active, tailored to the pace and level of your learners, whilst allowing greater flexibility in training organisation and follow-up through e-learning. Participants are also supported by one of our expert trainers who is on hand to answer questions during face-to-face sessions and/or organised virtual classes.
OUR ADDED VALUE 
+ SUPPORT FROM AN EXPERT TRAINER: face-to-face or virtual classroom training sessions led by one of our expert trainers with extensive field experience.
+ PERSONALISED TRAINING COURSES tailored to the learners' level and availability
+ SAVE TIME: as part of the training is carried out online, we can adapt more easily to the constraints (presence, travel) and availability of the learners.
+ MORE ACTIVE LEARNING: the wide range of training methods encourages different ways of learning.
+ ACCESS ALL RESOURCES FROM ONE PLACE: Our LMS, CVO-Institute, means you can access and save all your training documents in one place.
For more information or to get a quote, please contact us!