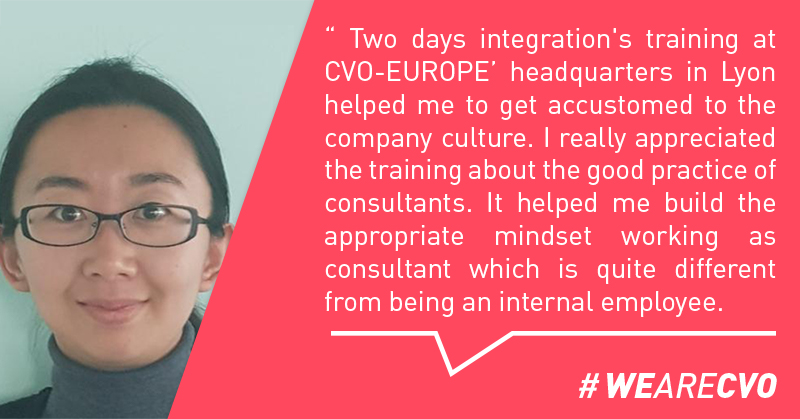 Xiaomeng has been a consultant at CVO-EUROPE since november 2018, for the Swiss agency. Discover her journey:
Hello Xiaomeng, could you tell us a bit more about yourself, your education and career, and how did you arrive at CVO-EUROPE?
I got my bachelor degree majored in pharmaceutical science at Shanghai. Then I moved to Paris for a master in chemistry followed by a training on quality management. I started my career at a medical research Institute as Quality Project Coordinator. I was in charge of designing, implementing and maintaining several quality systems complying with different regulations and standards, such as GLP and ISO 9001. In 2018, for family reason, I moved to Switzerland and started to find new opportunities. I met CVO-EUROPE at a recruitment forum. One week later, I was already on my first project. The hiring process was quite efficient.
You recently joined CVO-EUROPE, how was your integration?
The integration process consists of two parts, an information session at Geneva office and a two days' training at CVO-EUROPE' headquarters in Lyon. These trainings helped me to get accustomed to the company culture. I really appreciated the training about the good practice of consultants. It helped me build the appropriate mindset working as consultant which is quite different from being an internal employee. It's important to find the balance between task execution and providing advice.
What are your missions today? What are the main topics you are working on?
Currently I'm on a mission at Philip Morris International (PMI) as a business analyst. My missions consist in implementing and validating an Electronical Laboratory Notebook (ELN) system.
I work closely with scientists and technicians in R&D labs to analyse and determine their specific business requirements, then establish and communicate URS to IT development team and support validation activities. I am in charge of delivering trainings on basic functions of the ELN system as well.
What is the best advice you would give to a junior consultant?
Great consultants are studious. It's our job to bring the latest knowledge and skills to the table. Find a specific field that you are really passionate about and take full advantage of the available resources to develop the technical expertise. CVO-EUROPE provides a wide range of online and classroom trainings. We can also benefit from the rich experience of senior colleagues. Don't hesitate to ask them questions, all the colleagues I have met within CVO-EUROPE are very friendly and supportive.
What are your passions and hobbies after work?
I love travelling and meeting people from different culture background. I have been to more than 20 countries. Other than travelling, I enjoy reading history books which helps me to understand the struggles that have shaped the past and made the present to become what it has become now.
---